Policy • Manual of Style • Admin • Rollbacks • Help
The Laura Joh Rowland Wiki is meant act as a catalogue of the works of Laura Joh Rowland. Anything from the life of Sano Ichirō to the world of Charlotte Brontë to the author herself can be found here.
This wiki is in need of editors! Edit
Don't know where to start? Try browsing through these pages to get some ideas:
Article Stubs
Works in Progress
Thank you for stopping by. Edit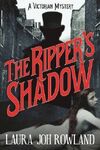 The Ripper's Shadow is the first book in a new series and the twenty-first book written by Laura Joh Rowland. It was released on January 10th, 2017.
---
It's 1888, the year of Jack the Ripper, the most famous serial killer in history. Modern forensic science hasn't been invented yet, and the police are powerless to stop the Ripper as he haunts the foggy streets, brutally slays one prostitute after another, and terrifies all of London. Enter Miss Sarah Bain, a photographer in Whitechapel, a solitary, independent woman with dark secrets. One of her secrets is that she supplements her meager income by taking illegal "boudoir photographs" of prostitutes. Sarah is the only person who knows that the Ripper isn't choosing his victims randomly—he's targeting her models. As she conducts her own private investigation into the murders, she clashes with Police Constable Barrett, who has his own personal reason for wanting to catch the Ripper. She acquires a motley crew of friends: Lord Hugh Staunton, a gay nobleman; Mick O'Reilly, a street urchin; Catherine Price, a budding young actress; and Abraham Lipsky, a Jewish butcher, and his wife Rachel. They band together with Sarah to solve the Crime of the Century. In the process, Sarah embarks on a personal journey that teaches her the meaning of friendship and uncovers clues to the mystery of her own past.
Read more...
| | |
| --- | --- |
| June 5th, 2017: | Rowland teased her next book, A Mortal Likeness, on her Facebook page. |
| March 14th, 2017: | On March 16th, Rowland will be co-hosting a panel discussion called "Women in Crime Fiction." It will start at 7:00 P.M. and will be held at the Center for Fiction. 17 East 47th Street, Manhattan. |
| March 1st, 2017: | On Friday, March 3rd, Rowland will be holding a book-signing with Loren Estleman and Doug Allyn. It will be at the Ann Arbor District Library, 343 South 5th Avenue, Ann Arbor, MI 48104. The signing starts at 7:00 PM EST. |
| January 10th, 2017: | The Ripper's Shadow has made it's debut! |
Which series/book is your favorite?
Ad blocker interference detected!
Wikia is a free-to-use site that makes money from advertising. We have a modified experience for viewers using ad blockers

Wikia is not accessible if you've made further modifications. Remove the custom ad blocker rule(s) and the page will load as expected.