The Samurai's Wife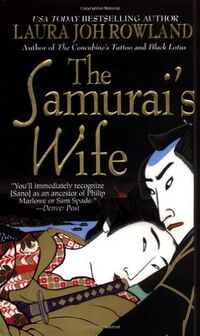 Attribution
Author:
Laura Joh Rowland
Cover Artist: Unknown
Publication Information
Publisher: Thomas Dunne Books
Release Date: April 1st, 2000
Pages: 203
ISBN: 9780312203252
Chronology
Previous:
The Concubine's Tattoo
Next:
Black Lotus
The Samurai's Wife is the fifth book in the Sano Ichirō series. It was originally published on April 1st, 2000. It was preceded by The Concubine's Tattoo and followed by Black Lotus.
Official Synopsis
Edit
"While investigating a high-level murder in Miyako, the Imperial Capital, samurai detective Sano Ichiro and his wife Lady Reiko undertake a desperate search for a killer whose method is as terrifying as it is elusive: Only the most powerful warriors possess the secret of kiai, the "spirit cry" that can kill a man with a scream. Surrounded by treachery and mounting danger, Sano and Reiko must find safe passage through the mazes of court intrigue—and the machinations of their enemy, Chamberlain Yanagisawa—before the repercussions of the violence in Miyako can destroy the entire nation."[1]
Dedication
Edit
Coming soon...
Coming soon...
Character Appearances
Edit
Reoccurring
Edit
Yanagisawa Yoshiyasu
Tokugawa Tsunayoshi
Character Deaths
Edit
Coming soon...
Locations
Edit
Coming soon...
Glossary
Edit
Coming soon...
Cover Variations
Edit
Coming soon...
References
Edit
Ad blocker interference detected!
Wikia is a free-to-use site that makes money from advertising. We have a modified experience for viewers using ad blockers

Wikia is not accessible if you've made further modifications. Remove the custom ad blocker rule(s) and the page will load as expected.